Landing back in London after a year of being away, I casually asked on Facebook what's happening in the city. A dear friend told me about some tantric event held by Monique Darling and Peter Petersen the next day, so I went to check out their profiles.
Quick and honest review of Monique and Peter's tantric workshops
Those of you who know me, know that I've been to a huge number of tantric workshops and festivals over the last few years, and after a while, whenever a facilitator introduces a new exercise, you think to yourself, "oh, this one again, I know it well". I was pleasantly surprised to discover that with Monique and Peter's workshops, there were plenty of things that I hadn't done before. Even after going to 3 different workshops with them over a period of 2 weeks, not one day was the same and the group atmosphere and practices kept us engaged with new sensations, movements and feelings.
If you don't have much time to read this today and just wanted to get an unbiased opinion on these guys, here is my honest recommendation – go to their workshops, you won't regret it! Monique is one of those facilitators who not only loves her job, which you can totally see on her face, but she also lives it in her daily life. Really warm, friendly and always smiling, she is also wonderful at holding space for anything that comes up.
If you want to know more about my personal experience and what kind of teachings you can expect, then read on and I'll do my best to break it up into organised parts.
Do I need a partner?
You can come with a partner and you can choose to stay with them throughout the entire workshop if this is what you wish. It's also perfectly wonderful if you come alone and find partners to work with there. If you're not comfortable working with other people, you can also do the exercises by yourself.
Is there nudity involved?
This is often something people worry about when they go to a workshop they know nothing about. My answer is yes and no. Depending on the workshop you choose, it will clearly state in the description if partial or full nudity can be expected. Out of the 3 workshops I went to, only one had full nudity, when we learnt how to give and receive a yoni massage.
Qi gong
What I loved most about these workshop is that Peter always starts us off by guiding us with a series of qi gong moves. For those unfamiliar with the term, the practice of qi gong (sometimes spelled chi kung) originated in China over 5,000 years ago. It consists of slow, graceful movements, which, when paired up with proper breathing techniques leads to more health and vitality in the body (and much more, please google it if you're interested to know more). Qi gong is traditionally viewed as a practice to cultivate and balance qi (chi), or in other words: "life energy".
Chinese practices have always been very close to my heart since I was a child, and even though I have always wanted to properly learn qi gong, no teacher has ever inspired me to take it up full-time until I met Peter. Perhaps it's his tantric energy that resonated so much with me, or maybe it was just my time to go deeper into qi gong, but since going to their first workshop, I began practicing every morning and evening. There is just something about this particular kind of energetic work that really makes my body scream, "yesss, I want more of this, it feels AWESOME!"
What are some specific exercises you did?
Whenever I get asked about my experiences of some event or retreat, no one ever likes to hear "we connected with other people and opened our hearts, it was lovely", they ask for specific exercises to help them understand what to expect if they sign up to something.
So when I write reviews on other people's work, I always try to be specific, but I also don't want to give too much away as I believe you should have your own experience. Also bear in mind that every workshop will be different, even if you do the same exercises, you may experience it completely differently to me or the group dynamic may encourage other practices instead.
Naturally, we started the workshops in a circle where everyone said their name and briefly about why they were there. It was so amazing to see more than half of the circle being completely new to "this stuff" and they would leave with a huge smile on their face and a hunger to know more about themselves and how they can develop these practices further.
You don't have to do anything you don't want to, everything is completely optional and you should always listen to yourself and what you're comfortable with or not.
"Look deep into each other's eyes and…"
Let's face it, you can't have a mindful workshop without looking into a strangers eyes for a significant length of time. Our group was divided into halves, with one half being the inner circle, looking outwards, and the other half standing in front of them, rotating with each new exercise.
When we look into each other's eyes, for some it can be uncomfortable at first, but if you give into it, you can see yourself and every little bit of the universe inside the eyes of another.
As we changed partners, we were encouraged to see them as different people. We imagined the person we missed the most or someone we admired. In some cases we just had to lovingly look at the person in front of us as the perfect being that they are and gently stroke their cheek. Other "strangers" represented our mother's and told us the one thing we longed to hear all our lives. For me personally, the 2 strongest exercises of this kind were imagining myself as a child, where I got to tell the little girl inside me everything I wish I knew at that age, and then having my future Self come in front of me, who gave me some valuable insights from beyond my years.
Activate the senses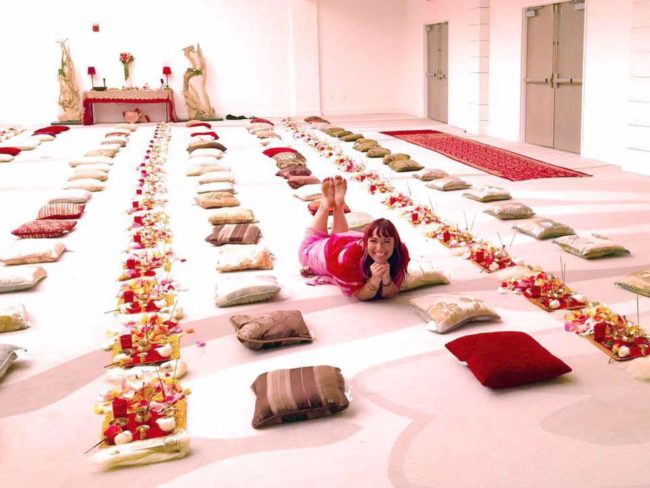 Touch, smell, taste…etc – we worked on them all. For example, we paired up and one person had to gently touch each other with a rose, with clear boundaries and a playful hint. Or we worked on finding out what it is we truly desire and not be afraid to ask for it – so we would ask our partners to touch us exactly in the way we want and if at any point we wanted something else, we had to voice it too (this isn't supposed to sound naughty by the way, it's usually a little massage or a light touch or something). This is an exercise very familiar to me and one I absolutely love teaching people myself as it has opened up doors for me that I never even knew existed. We have so much shame in asking for what we want, trying to send "mental commands" to our partners, and then we get upset if they don't do what you telepathically asked them to do. It's so silly, but sadly we don't even realise that it's ok to ask for what we want, in fact, our partners will appreciate it!
Another great exercise we did was for our sense of smell. This one stood out for me because I've always had an extraordinary sense of smell and I've never had the opportunity to go into it with such depth with another person. We worked in three's, with one person lying on the floor and the other 2 smelling each and every part of them (or whatever they allowed us to, of course). We were encouraged to go beyond the physical and sense what their energetic body smelled like, and it was very curious for me to observe how different parts of a person can smell so vastly different. And I'm not talking about the fact that their armpits smelled worse than their hands. I want to go into this deeper, but I believe I could smell certain blocks and energetic clusters in certain parts of their bodies, like you wouldn't expect knees to smell any differently to the rest of the body, but for one person they had a very distinct energy, which made me wonder how well his joints operate or if he's a runner.
Deep sharing
One of the things I love most about events like these is the aspect of sharing. Whether it's in a full group circle or a small cluster, letting someone into your deepest desires or strongest fears can be incredibly empowering and healing.
One of our workshops actually started this way. We had to share a secret with the person next to us, something we would normally take 6 moths or longer to tell someone new. Then, instead of introducing ourselves to the group, our partner introduced us based on our story.
We had another sharing in small groups where we had to disclose what we dislike most about our physical bodies and why. Then we "spoke" to the group from the perspective of that body part. I absolutely hated this exercise, which is obviously why it was so powerful. The sharing part I could do, but speaking for my body part was too much for me, as an area of me that I ignored for so long, I found it super challenging to even let it speak, but with the amazing support from the group I managed to get the most I could from it.
Get the body moving
Besides qi gong, there is also dancing at Monique and Peter's workshops, so if you enjoy moving your body, then you will definitely enjoy these events! Attendees are guided into a variety of different dance forms, from flowing by yourself and contact improvisation to showing off your sexiest moves and just some fun "shaking your ass".
Cuddle parties
Monique is famous for her cuddle parties, and she even wrote a book about them which you can get for free if you sign up to her newsletter here. It's a really great read, if you're curious to know more about these events then I suggest you have a flick through the e-book!
I didn't actually go to their cuddle party because my life is one big cuddle party (and I don't own pyjamas) haha, so I can't really comment on that, but based on my experience from other workshops, I can imagine they must be loads of fun!
Women's circle and yoni massage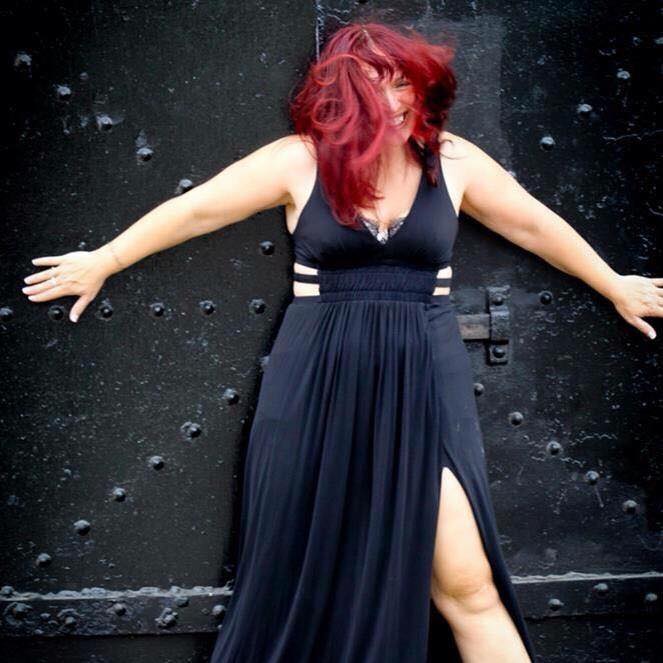 One of the workshops I went to was called "Love The Skin You Are In (Dakini) Goddess Circle", which brought women from all cultures and backgrounds together into a safe space to open up, expand, shed layers, and learn to give and receive.
For those unfamiliar with the word "yoni", it is the tantric word for vulva/female genitals. So yes, we learnt how to give each other massages "down there", which may seem very odd for people who have never been exposed to such practices. For me though I have received many massages and de-armouring sessions so I knew what to expect, and actually wanted to learn the techniques so I can do it to myself, knowing first-hand what incredible benefits this has on our mental, physical and emotional bodies.
For the first 2 hours we did some heart-opening exercises and sharing sessions, like those mentioned above. Then, after we were all comfortable with each other, after a brief explanation and demonstration, we partnered up to give and receive a yoni massage, for those who were willing to give it a go. I actually felt that this part was a little rushed as it was done right at the end of a 3-hour workshop, so with my partner we both only managed to do 3-4 spots out of 12. However we still managed to go very deep and my partner experienced some strong releases and visions during the session. This was just an introduction though, they did have an advanced class after this to allow people go develop these skills further if they wished.
Conclusion
Wonderful atmosphere, deep and insightful teachings, friendly and knowledgeable facilitators – can you ask for more? I was very happy to have caught Monique and Peter whilst they were in London, so if they're in your country, I wouldn't miss the chance of going to one of their workshops!
Stay up to date on their whereabouts here.
This post includes sponsored content, but all reviews are my own and honest opinions. If you'd like to advertise with me, please click here to find out more.
For more of my mindful event reviews click here, or for more tantra articles, click here.