Been invited to a party this Christmas? Need to make dinner for your entire family? Can you really stay raw during the festive season? Yes you can – with a few helpful tips below.
Bring food with you to a party
It does't matter if you're going to a party with lots of people where there are just simple snacks or a fancy dinner with family, either way, you can and should definitely bring something deliciously raw with you! After all, it would be selfish of you to keep something tasty from the rest of the guests.
Make sure that whatever you're bringing won't go soggy after hours standing out on the table. Stuffed mushrooms (see pic above) or stuffed tomatoes always work wonders at parties I've hosted, but if you don't know how to do those, a big salad or dips will do just as nicely. There's always room for a salad at the table, and better it be you who brings it – that way you can make sure there's no mayo inside or something like that.
Ask guests to bring food with them
If you're hosting dinner and you know your family or friends are very much meat eaters, ask them to bring their own dishes. They will be happy because they will get to eat what they like and still enjoy your company, and you will be happy because you won't have to cook meat!
Shock them with amazingly tasty healthy food
If you are a good cook and you're hosting a party, do make the most extravagant raw foods you can to impress your guests, it's not very often that they would get to try raw dishes and it's a great chance to convince them that you don't just eat carrot sticks.
Again, try not to make things that will go soggy quick, and make stuff just before people sit down to eat. Wraps are a nice one as they taste like "normal" food, and they can hold for 30 minutes or so (depending on the wrap).
Also, try making one of those vegetable-Christmas-trees, see the video below on how to make one! It's a really fun thing to bring with you, and no one will even notice it's raw – just don't forget the dips for it.
Make some cooked food
If you're feeling up for it, prepare some vegan cooked food if you wish. That way, people won't feel pressured to just bring their own food and they will have a healthier cooked option too. We often do a cooked Indian curry for large dinners alongside raw food, and everyone always loves it!
You can also make half-raw foods, it's a fantastic option as if at least one ingredient in a meal is cooked, people will not look at it funny. For example, use raw fillings, but buy cooked wraps! That way, people have a choice and you won't have to make several different meals.
Make raw versions of typically cooked dishes
I come from a Russian family and we celebrate New Years with a large table with LOTS of food. There's always lots of cooked salads though, and I've recently started rawi-fying them so I can take them with me this year. I just gave my grandma a taste of my Russian "herring" salad ("селедка под шубой" – see pic above), and she actually thought I gave her herring! I laughed so hard, but was happy that it tasted almost identical to the original version.
Do tell people about your lifestyle choices
If you've been invited to a party, do tell them you are raw (without making a big deal about it!), it won't be difficult for them to make you a salad, and will save a lot of awkwardness if you come and the table is filled with sausages.
If you are having dinner with grandparents who don't understand that a meat dumpling isn't vegetarian, better just bring your own food…
Offer to help with the cooking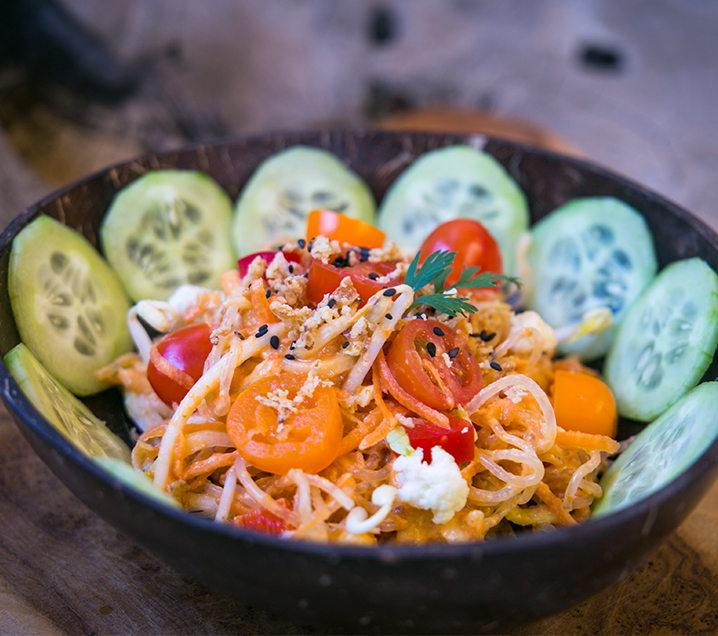 One of the easiest ways of making sure there are raw dishes at the table – offer to help cook dinner! This is especially a good way to go about it if you're, for example, having dinner with your partner's parents and don't want to offend them by bringing your own food. Say something like, "I found this awesome recipe online for mini mushroom burgers that I've been wanting to try", they may get curious and make it with you!
If all else fails or if you don't want to tell people you're raw…
Fill up before the party, then just take a plate, put a little bit of food on it and fiddle with it with a fork for an hour without eating it. Psychologically people will think you're eating and just on a diet and it looks better than if you have a completely empty plate.
This works well if you're at a work party, or your child's school's Christmas event, where you either don't have a say in the menu, or if you don't want to tell people about your lifestyle, for whatever reason.
Have a Merry Raw Christmas!
Christmas is a time to have fun, so forget about food and enjoy yourself! Worst case scenario you'll fast for a few hours, but will have fun with your friends.
Have you got any more tips? Tell us in the comments below!