I recently went to look for my first ever website and found my first ever blog! I decided to re-post it here with a few edits, hope you enjoy it.
How far away is God?
Ever sat at the base of your bed and begged for God to show himself to you (or spirit, a star being or maybe even a fairy)? I know I have when I was younger. We've been told that if we really want something then if we sincerely ask for it, it will come. That is true, but in this case, I believe, there is a little more that needs to be done…
Have you ever really paid attention to Michelangelo's painting below?
I remember when I first acknowledged that painting at the age of around 7, I thought to myself "why is Adam not making any effort to reach God, why is he so lazy?". Just look at him, he isn't trying at all, whereas God is reaching as far as he possibly can! Children really do understand life better than adults, I just never took that thought further, until I read the book "Telos" by Aurelia Louise Jones – an absolutely wonderful read, and really cheap to get online too!
Understanding vibrations and dimensions
Beings from other dimensions/planets are really trying to get in touch with us, theyre perhaps even more eager than we are, but they physically cant come down to our low 3rd dimension. They vibrate at a higher frequency to us and can only come down to a certain level but we must raise our vibrations high enough to meet them two-thirds of the way up.
To explain this in an easier way: remember in school when told us that sound has different frequencies and that humans can hear a certain range, dogs hear a different range and bats yet another. We can't hear the noise bats make or can hear, but that doesn't mean it isn't there. This is how I personally understand different dimensions, we can only see what vibrates at a certain frequency, but if we raise our own frequency, or vibration, then we will be able to see/hear/touch things in other dimensions! Isn't that exciting?
So to summarise, the main thing we need to do if we wish to get in touch with beings from other dimensions is to raise our own vibrations. It is us who need to make the effort, for they are always ready and trying to reach out to us.
What is the main and most effective way I can increase my vibrations?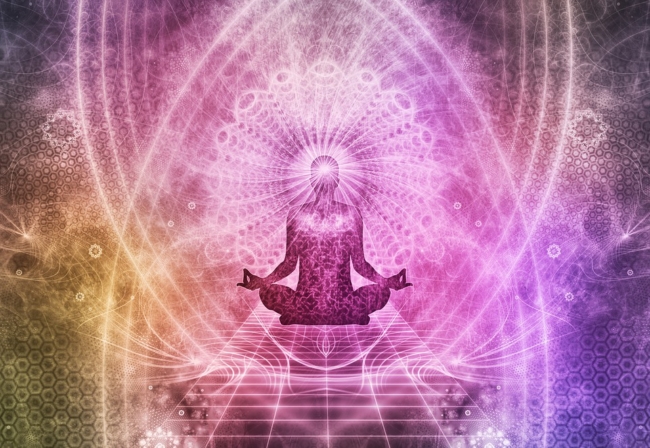 There are many ways and many pathways that people take, and one is not better than the other, it's just a matter of personal choice. For me personally, the most important thing is to begin living from the heart and finding out who you really are. You may need to find your own way to that path and there are many teachers out there who can help you.
I started with the teachings of Drunvalo Melchizedek and his book "Living in the Heart" where he explains precise steps you should take to actually go into your heart, where you will discover incredible things and learn to communicate with your Higher Self. To this day it's still one of the most important books I've ever read.
I then went on to learning from Jasmuheen, one of the world's most famous breatharians. Learning from her in person is of course much nicer, but her books are great too, there are just too many to list. I wrote several articles about her retreats and experiencing living on prana personally.
*Update* 12 years after I began my spiritual journey I discovered Mooji, (this is my favourite book) and now this post and many other things in life feel irrelevant for me, but I will leave it up as everyone goes through certain stages in their lives, so if you felt drawn to this blog then there must be a reason for it. Mooji's main teaching is to help us experience who we really are.
Connecting with Mother Earth
I found that it is absolutely vital that we get back in touch with our dear Mother Earth.
We, humans, are the only species who vibrate at the same frequency as the Earth, so everything we do/think/say will affect our planet. Let out your inner child, play with nature, send her your love. Not only will you do a great thing for this planet, it will also help you raise your vibrations and you will notice in time you have become generally happier, more healthy (just 5 mins in nature a day can strengthen your immune system and prevent diseases – I havent been ill in a loong time!).
What makes you happy?
Try to find little things to make you happy and to help you stay in the present moment. Most of our day is spent thinking about either the past or the future, and most of it we spend worrying. Tomorrow, on your way to work, try to notice everything around you, really look at the trees, at the pretty flowers, acknowledge their beauty and be grateful for it all.
Try to keep positive no matter what happens in your life, there's always a reason for it! You may think that something awful happened to you, but it could be a blessing in disguise.
For me, I find it so helpful to wake every morning with a smile, and the first thing I do is thank my Higher Self and the Universe, and any other beings that are helping me every day. If you have time for a meditation then all the better. This immediately puts me in a good mood, we have magic in everyday life, we just forget to appreciate it…
Things that lower your vibrations
One of the ways in which you can increase your wellbeing, you actually don't have to do anything… you just have to not do something. More specifically, you should try to watch less TV, read less newspapers and generally not follow the media.
Now for most people this thought may be impossible to even consider, "how can you live without a TV"? Well I havent had a TV since 2006 and I'd never get one again – theres just so much rubbish out there. First of all it wastes your time, and secondly, have you seen/read the news lately? Everything is just so negative, wherever you look there are oil spills, people dying and other awful events. Horror and fear sells..unfortunately, but the more negative things you see, read and hear, the worse you feel, you may become more nervous and unhappy. This is explained very well by Dr. Masaru Emoto using his ice crystals. This is a great book of his.
But surely we need to keep up with the news in some way? Yes it is important to know whats going on in the world but theres no need to watch TV or read newspapers for it. What you really need to know are the important bits, right? If something truly important happens, most people would be talking about it, so chances are, you will hear about it from your friends or family – so you will be up to date and avoid all the rubbish headlines around it.
A list of ideas that will make you happier in your day to day lives
Letting go of unnecessary feelings that bring you down, such as anger, jealousy, guilt, worry, anxiety etc.
Listen to music that you love, also try solfeggio frequencies and binaural beats
Try to do something new once in a while, if even just talking a different route home from work, its good to get out of the routine. I wrote a short article on why doing new things is good for you here.
Make it a habit to see more beautiful things every week
Light some candles, run a bath, incense…whatever makes you happy. Smelling lovely things will stimulate your happy hormones!!
Call someone you love, even if you speak to them every day
Leave work on time, or even early if possible. Too many people stay behind the desk way past the end of the day. Do you live to work or work to live?
Do more of what makes YOU happy, be that reading, hiking, skiing, painting or playing with your dog
Acknowledge "friends" who are no longer serving your highest good, when youre around them, are they making you sad/annoyed/bad about yourself or others? If so, maybe its time to let them go and allow space for new friendships that will make you happier
Hug a tree and ask it to take away your negative energy and give you some life force, send it your love (this is what helps me best)
Dont forget one of the most important things – meditate! If you dont know how, ask around, or read this easy guide for beginners.
Let go of your fears (this is a huge topic and one of the most important ones) – you can start by just setting your intention and telling yourself that you're releasing all your fears.
Accept all challenges and lessons with an open heart and a smile – the faster you go through them, the sooner you will achieve your goal, so yes you want those freaky dreams/angry bosses/annoying cats in your life, if you learn your lesson, they will go away…if you dont, life will give you an even tougher lesson!
Smile at/talk to people on the streets, you may be surprised how many people smile back. This act will brighten up your day and of those around you.
If you have any other ways that help you raise your vibrations, please share it with us in the comments below