How to find the Campuhan Ridge Walk
I've been living in Ubud, Bali for two months now and this morning was the first time I went for a hike. The road up to Campuhan Ridge Walk was so peaceful and beautiful, that it inspired me to create a travel section on my blog!
The seed for the blog was planted when I was looking for directions to Campuhan Ridge Walk. There are a few articles online but I didn't find them too helpful, so I've prepared a guide for you on how to get to Campuhan Ridge using the photos I took to guide you.
Here are the directions to Campuhan Ridge Walk in Ubud:
Let's use the Ubud market as our starting point. Walk West towards Penestanan/the bridge/Bintang supermarket. or as you exit the Ubud market onto the main road, Jalan Ubud Raya, you go left.
Before the bridge, on your right, you will see a sign for IBAH Hotel. This will be before the clinic and after the turning to Sari Organic, if you know where that is.
Turn right at that sign as if you're going to the hotel (North of the main road if you're looking at the map). To the left, you will see a road that goes downhill.
Update: When this blog was first published you could drive down and park at the school as you can't go any further with a moped. However, I've since been told that they kick you out if you try and park there, so you may need to find another spot. The main Ubud market parking is about a 10min walk away.
Now take the road going right, DOWN the stairs (not over the bridge, but under it). The stairs will go up a little and for the next few metres the road will be a little uneven. Don't worry, soon enough it will even out into a nice paved road.
Congratulations, you've found the path to Campuhan Ridge Walk!
For the next 2/3km, enjoy the scenery – it really is beautiful up there. The road slightly tilts uphill all the way, but it's not hard, plus it makes the way back much nicer if you're tired! However, even though it's an easy trek, you will still get super sweaty from the heat, so wear something that won't show those wet patches…
I would recommend going off-path wherever you like, there are some great places that aren't on the main road – good for photoshoots in tall grass! I went up a steep hill off-path and had a lovely meditation overlooking the gorgeous fields.
The Campuhan rest point – Karsa Kafe
After a while, you will reach a built-up area with several art shops and the road will become unpaved but still quite even. Keep going another 500 metres to reach the rest point.
The typical "rest point" up there is a cafe called Karsa Kafe. You will easily recognise it by the 3 traditional Balinese huts to the left of the road. Karsa Kafe is a great place with a gorgeous view for a bathroom break and some watermelon juice. The menu isn't huge, and for raw vegans, there's only the choice of a simple salad or a fruit plate. They also have free wifi and I actually wished I had brought my iPad with me to start writing this blog.
As you can see from the photos below, Karsa Kafe is quite easy to spot:
This is where I sat to cool off from a long, hot walk.
The rice terrace views from Karsa Kafe are really peaceful.
And no guide would be complete without a photo of food! This may not be the greatest photo, but the pineapple was drool-worthy!
The way up there took me about 1.5 hours but I was stopping quite frequently to take photos. Plus I had a meditation up on the hill, so it could probably be done in half the time if you're a determined walker. The way back, downhill, took me about 40 mins from the cafe to my moped.
Also, you are likely to see some wild, wonderful and weird creatures, so don't forget your camera!!
Oh and if you REALLY don't want to walk all the way back, there is transport available in the village – I saw a sign at Karsa Kafe for transport.
Quick summary of Campuhan Ridge Walk:
Distance from Ibah Hotel to Karsa Kafe and back: about 4-6km (just by the school it says it's 2km to the cafe, but at the cafe, it says 3km to Ubud. Perhaps they mean central Ubud.)
Don't forget: your camera, a bottle of water (the closest shop is about 1.5-2km from the start) sunglasses and sunscreen, and a hat could come in useful too. Take some money also if you'd like to buy some art or some food at Karsa Kafe.
Best time to go to Campuhan Ridge Walk: early morning, around 7:30. I went at 9am and that was a bit too hot. It's June now, so the sun rises at around 6am, so anytime after that is great.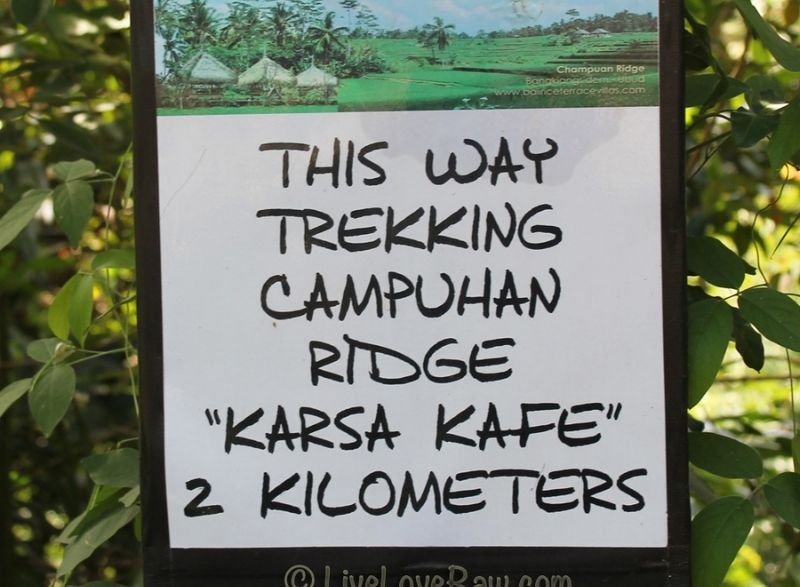 Here are some more photos of Campuhan:
Enjoy your walk!!
If you liked this article, you may want to read some more stuff about my life in Bali:
Want to know more about Bali? Here's a Lonely Planet travel guide